Air Stream Visualization:
Mist Stream



Visualize invisible air stream by fine particle mist.


To maintain cleanliness in clean room, it is very important to control air stream. But it is invisible as fine particle. Mist Stream can visualize the air stream by generating fine particle mist as the tracer. And Mist Stream equips Middle Efficiency Air Filter (MEPA) and uses purified water, therefore it does not contaminate clean room.

Examples of usage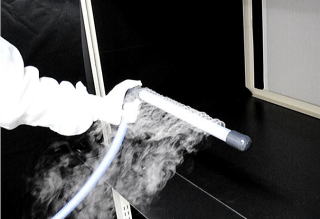 ⇒ Checking positive /negative pressure in clean room.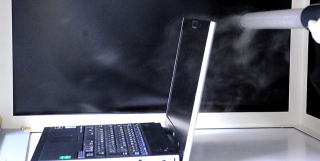 ⇒ Detecting air detention area in clean room.
⇒ Checking subtle air stream around your work.
⇒ Confirmation of rising air induced by heat.
etc.



General features

Tough body: Even the case it tips over, it recovers and works soon
Two types of nozzles: Single hole and multiple holes that You can select according to the usage.
Mobile by rechargeable battery (optional)

※ Clean Room Light (NP-1, L3 etc.) can make the mist clearer and help the visualization of air stream.





Outline Specification
Size: W168 x H245 x D355mm
Weight: approx. 7 kg (excluding water in tank)
Material: Anti-Static PVC (partially normal PVC)
Power Supply: AC 100 – 240V, 50/60 Hz
Water: Purified water
Mist Generation: approx.1200 ml / hour
Operating Time: approx. 40 min (Between upper and lower limit)
Filter: Middle Efficiency Air Filter (MEPA)
Accessories:Hose, Single Nozzle, Multiple Nozzle, Protection Cap

---