See dust in a clean room, falling dust, and dust attached on the product with intense light !
CLEANROOM LIGHT NP-1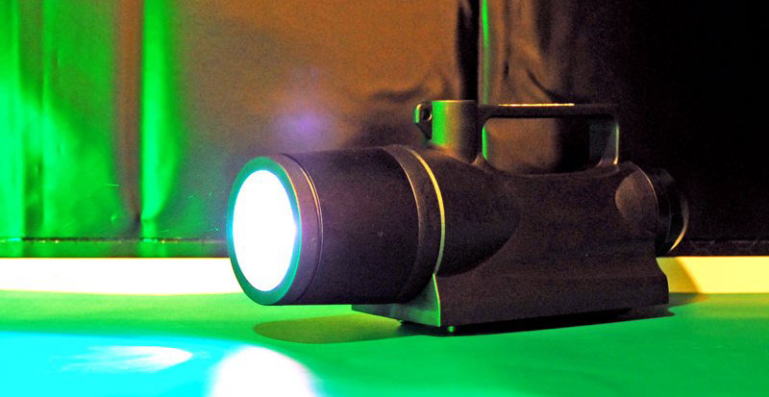 HID light with 3,400 lumens
"Cleanroom Light NP-1" is a handy light which provides the strongest light in the cleanroom light's series of CSC. Under the best circumstance, you can see even about 10 μm-sized dust.
Use applications
- Cleanroom floors and walls
- Dust on the curtains of the clean booth
- Dust floating in the cleanroom
- Dust on the surface of the workpieces
- Defect of workpieces such as scratches, cracks, etc.
- Poor appearance
To visualize small dust.

Lighting from a low angle visualize defects and dust on surface.
It is not so suitable for a rough surface that induces diffuse reflection.


For Checking the attached dust.
| | | |
| --- | --- | --- |
| Pic-1) Dust on the workbench | Pic-2) Enlarged Pic-1. | Pic-3) Lighting straightly to the dust makes you cannot see it. |
| Pic-4) After cleaning up | Pic-5) Dust on the sheet | Pic-6) Enlarged Pic-5. |

For training cleanroom users.
Letting them see the problem can lead to understanding and taking the measures.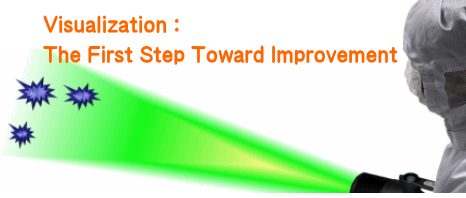 Components
 
Battery Set
Light
Green filter
Battery
Battery charger

AC Adaptor Set
Light
Green filter
Dummy Battery
AC Adaptor for continuously use

Options

Hard Case

Battery

AC Adaptor set
for continuously use

UV filter
To visualise any lint by UV.




UV-Cut filter
For the place that UV is not allowed.
 
The spectrum of each filter
| | | |
| --- | --- | --- |
| Green filter | UV filter | UV-Cut filter |
| | | |
Compare with the other Cleanroom Light
 

Cleanroom Light Mini
Easy to carry
For check dust in a small area.
 

Cleanroom Light NP-1
3,400 lumens light!!
For check dust in a wide area or large workpieces.
To see dust in the air.
 

Dust Finder L3SQ
Bar-type LED light
For inspection process.


CSC Co.,Ltd.
E-mail : info@csc-biz.com
TEL: (+81)78-252-7201