Cleanroom Light NP-1


Detect dusts in clean rooms and surface defects of yourworks!


Clean Room Light NP-1 is a very strong handy HID search light. It can clearly reveal dusts about 10 μm size in clean rooms.
NP-1 is good to…
- Detect remained dusts after cleaning floor or tables.
- Find dusts on big work pieces.
- Able to be set on tripod.
- The strongest light in our lineup.




Lighting from a low angle reveals surface defects and dusts. It is also effective to aim the light beam from the back side for transparent works such as glass.
It is not so suitable for the rough surface that induces diffuse reflection.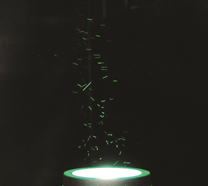 When hands are clapped in a clean bench, you can see a lot of the movements of the small dusts if lighted by Clean Room Light NP-1.


※Video to see particle in the air※



Component
---
 
Battery Set
Light
Green filter
Battery
Battery charger

AC Adaptor Set
Light
Green filter
Dummy Battery
AC Adaptor for continuously use

Options
---

Hard Case

Battery

AC Adaptor set
for continuously use

UV filter
To visualise the textile by UV.


UV-Cut filter
For the place that UV is not allowed.

Compare with the other Cleanroom Light
 

Cleanroom Light Mini
Easy to carry
For check dust in a small area.
 

Cleanroom Light NP-1
3,400 lumens light!!
For check dust in a wide area or large workpieces.
To see dust in the air.
 

Dust Finder L3SQ
Bar-type LED light
For inspection process.


CSC Co.,Ltd.
E-mail : info@csc-biz.com
TEL: (+81)78-252-7201